A guide to customize your mega menu using a banner
Adding a banner/image to your Shopify store's menu is a great option to attract your customers and increase sales. If you are looking for a way to do that, then we are here to help.
After adding a mega menu to your store,
Zest
lets you add a banner to your main menu item.
1. From your Shopify admin, select
Themes
>
Customize
to go to the theme editor.

2. In the
Header
section,
Add block
> choose
Banner.
3. Match the text in the
Menu title
element with the corresponding menu item to show
the mega menu under it.
You can control the container settings by selecting a suitable option:
Inherit from Header: The container is the container setting you set for your header section.

Stretched width: span the section width regardless of screen size.

Full width: takes up the entire space on the page and it usually resizes itself to fit the size of the screen.
You can also adjust the number of menu columns by tweaking the slider.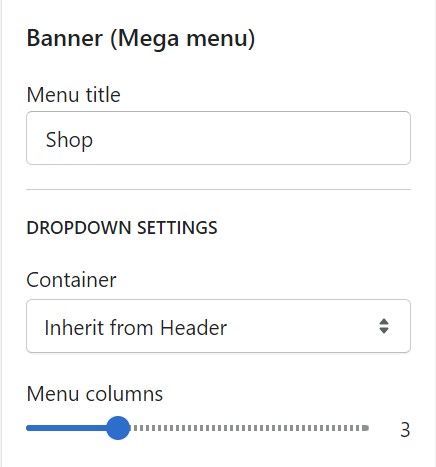 4. In
Content
Settings
, add an image and insert a
link
, and adjust the banner width
.